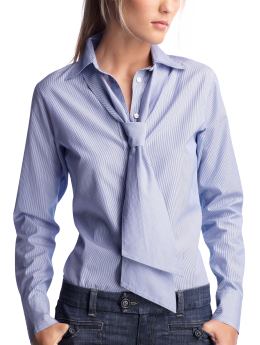 You have your eye on fashion, so you've likely seen them all over the place: shirts, both casual and formal, embellished by big, sometimes floppy bows. The question is, are these fashion hip, or a big fashion flop?
The answer, as usual, lies in your personal style. Bows can add feminine flavor to a shirt, dressing it up from a lay-around-the-house shirt to a flirty, fun top perfect for a date. But if you're not very girly, you may want to forego the bow, and that's okay, too. Fashion is about finding your comfort level, and making you look good while comfortable.
If you decide to go the bow rout, you must take care to not look too cutesy. Big bows sometimes have the tendency to do this, so you must always try your bowed shirt on. (No internet purchases, ladies!) And keep your style simple, relaxed: the bow should be the biggest, and only, fashion accessory you're wearing.
A second, very popular style is the menswear-inspired bow-tie look, like this fashionable Gap blouse. Tie it as a tie, or flip it into a bow – the choice is yours, and this added versatility allows you to go from work chic to feminine flirt in no time at all. Now that's what I call a two-for-one deal.